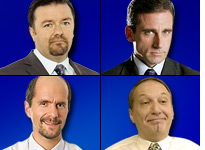 Thoughtful article on the cultural differences between the British, American, German and French versions of the Office.
Apparently in the US "a boss who fails to project at least an outward appearance of seriousness would not be credible."
And the German Gareth is called "Bert" but is derisively nicknamed "Ernie" by his colleagues.